We are the ZuckerRollis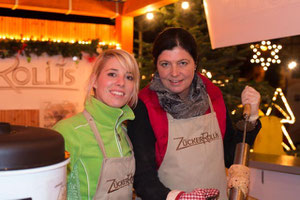 ...we are Regina Zücker and Julia Rollmann.
We have known this delicious pastry for many years in the Czech Republic, where it is offered as "Trdelnik" or "Skalice Trdelnik".
In the meantime we have become passionate ZuckerRolli-Bakers. The production is uncomplicated, and the compliments and positive reactions to our ZuckerRollis is astounding and never ceases to inspire us.
The skill of baking "Trdelnik" isn't that difficult, as we have learnt it very fast in the Czech Republic. The challenge in our beginnings in Germany lied with acquiring a technically certified Trdelnik grill. Since there is very little selection for industrial grills in this category, we have created the hot rotation Multigrill after Czech standards.